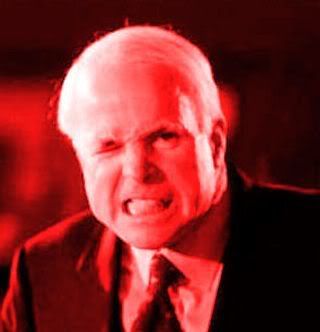 The kids from New Hampshire's Concord High School quoted in
this
Yahoo News story need to moderate all future 2008 candidate debates. Seriously, they're hard asses. They certainly were not all impressed with John McCain.
An unflinching John McCain was told Tuesday by New Hampshire high school students he might be too old to be president and too conservative to be respected. McCain, the Arizona senator whose presidential bid has stumbled through the summer, countered the Concord High School students with humor.

"Thanks for the question, you little jerk," McCain joked back to one student who asked the 71-year-old about his age. "You're drafted."

[snip]

"If elected, you'd be older than Ronald Reagan, making you the oldest president. Do you ever worry you might die in office or get Alzheimer's or some other disease that might affect your judgment?" one student asked.

The audience groaned; McCain slid into a joke.

"I think it was one of my sons that alleged I'm getting to the point I hide my own Easter eggs," McCain said to laughter. "When you saw my 95-year-old mother (on a video introduction), you saw the kind of genes I have."

[snip]

Another student pushed him on gay rights; McCain repeated his pledge to oppose discrimination but support for traditional marriage.

"I came here looking to see a good leader," 16-year-old William Sleaster told McCain, earning himself boos from his classmates. "I don't."

McCain, a veteran of such candid exchanges in New Hampshire, smoothly pushed forward and told the crowd not to disrespect its peer.

"I understand. I thank you," McCain said. "That's what America is all about."
I'm noticing a trend developing among coverage of some of the GOPers by the press--they keep stressing that these guys are funny, that they have senses of humor. Is this going to be the humanizing quotient for 2008?

After all 2000 and 2004's, "who would you like to have a beer with" proved a sure winner.