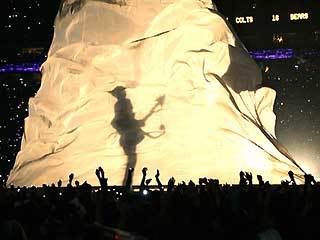 Apparently the New York Times spoke too
soon
. Now we have "Priapic Silhouette-Gate."
This is Prince we're talking about. He's the dirtiest Jehovah's Witness in this hemisphere
who's not named Jackson.
This is a man who wrote a song called "Pussy Control." Who sang: "now move your big ass round this way so I can work on that zipper, baby;" about a woman with used Trojans in her pockets; about Darling Nikki and her magazine; a song called "Sexy Motherfucker." Who managed to turn Sheena Easton into a moist ho with the song "Sugar Walls."
And they wonder if this image is
intentional
.
No word yet if Heather Wilson (R-NM) cried.