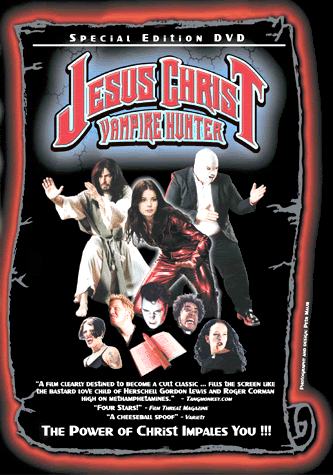 My friend Karl, who has decamped from West Virginny to Old Virginny, sent me an email the other day about this movie.
Jesus Christ Vampire Hunter
. That's just brilliant. This strikes me as the perfect anodyne to our current dearth of Christploitation flicks. There are a few, just not enough.
Although not the biggest Jesus movie fan, I do love me some Vampire slaying. And while I doubt there's any reference to "Mr. Pointy," I think the movie's two tag lines are solid: "The Power of Christ Impales You" and "The first testament says "an eye for an eye." - The second testament says "love thy neighbour." - The third testament ... Kicks Ass!!!"
According to
this review
at Badmovies.org, this movie is a trifecta for me. Masked luchador? Check. Skinning lesbians to provide the vampires skin grafts? Check. Atheists attacking our lord and savior? Check.
Thank you Karl!