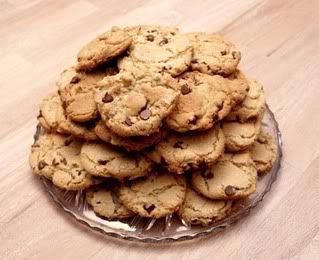 Brian has a habit of calling me Donna Reed when I'm on a cooking binge. (Either that or my penchant for
house dresses
, aprons and pearl necklaces.) He's coming for a visit next weekend and since I couldn't make it to Baltimore for his birthday I've gone into baking mode. Today I made Macadamia Nut Triple Chocolate Chunk Cookies (I've come to realize that I also have a habit of making things with multiple chocolates.) Anyway--here's the recipe--it's a riff on the one my mom used when I was a kid.
Macadamia Nut Triple Chocolate Chunk Cookies

Wet Ingredients

5 T. Butter
5 T. Shortening
1/2 C. light brown sugar, tightly packed
1/2 C. granulated sugar
2 large eggs
2

tsps

. Vanilla extract
2 T. milk (I prefer buttermilk)

Dry Ingredients
1 1/2 C All-purpose Flour
1/2 tsp. baking soda
1/2 tsp. salt

optional add-in:
2/3 cup cocoa powder

Chocolate and Nuts

1 4 oz. bar Semi-Sweet chocolate (I prefer

Ghiradelli's

)
1 4 oz. bar White Chocolate
1 4 oz bar Bittersweet Chocolate (I prefer the 60% cacao bars)
4 oz macadamia nuts

preheat oven to 375 degrees.

Chop nuts and chocolate bars into chunks and set aside.

Cream together butter, shortening and sugars until fluffy and increased in volume. Add vanilla. Add eggs one at a time; beat until well combined. Add milk.

Sift in dry ingredients a little a time, mixing slowly.

Fold in chocolate chunks and nuts with a spatula as gently as possible.

Drop rounded tablespoons of dough onto parchment paper lined cookie sheets. It might help to spray your spoon with Pam or

occasionally

wet it--it's very sticky. Wet or Pam your fingers and gently press down dough to flatten slightly. Batter should be dropped about 3" apart--it can spread like crazy if its too warm.

Bake for 10-12 minutes--cookies should look slightly underdone. Let them sit on the cookie sheet for about 5 minutes, then transfer to wire racks to finish cooling.

A Few Notes:

I usually split the dough before folding in the chocolate chunks and nuts and sift in 1/3 cup of cocoa to make a half batch of these in a chocolate variety.

You can use either all butter or all shortening--I've just found that a split between the two gives a better finished cookie. All butter tends to spread out more when baking and all shortening seems a little too crumbly to me.

Use the chocolate of your choice--around here the best I've found in grocery stores is the

Ghiradelli's

--it chops easily into nice chunks. Other baking chocolates I've found make curls and shred. The cookies are still tasty--but there's just something about seeing huge chunks of chocolate and nuts.

Since the recipe calls for baking soda as a

leavener

I prefer buttermilk--it reacts with the soda and gives a lighter texture than sweet milk does. It also negates a little bit of the alkaline taste.

If you don't want to deal with such a wet dough (or you want a chewier cookie consistency) refrigerate the dough for about 20-30 minutes before baking.

Parchment paper is a gift from god. Due to the amount of chocolate in the cookies the paper makes a much easier cleanup than using a bare pan does. It also helps minimize spreading.

Makes about 40 cookies.