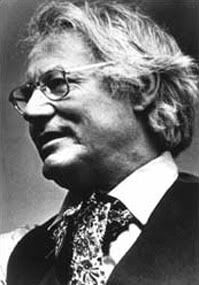 I totally forgot to blog this this morning.
Wednesday night I dreamt about Robert Bly. I was in an archway between two rooms and he was approaching me, wearing an embroidered vest and cravat. We walked up to one another and shook hands and I said "You're shorter than I'd imagined." He was probably 5'4" in the dream, coming up just to my collarbone.
I've never (in my memory) dreamed about another poet (that I don't know personally) and am (more than a little) surprised that he's my first. Likewise--I have no idea why he'd surface now.