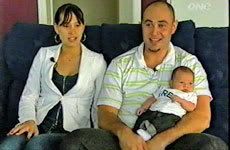 The Proud Parents of a Future Pariah

Because you're fertile and can produce a baby doesn't necessarily mean you should. Nothing proves my point more than
these people
from New Zealand who want to name their kid 4real.
One New Zealand judge even blocked one family from using the name it chose. The judge said the name was unfair to the child.

"Initially, the reaction is, 'Are you for real?'" said Pat Wheaton, the New Zealand father who was blocked from naming his son 4Real.

Wheaton said the idea for the name came when the couple saw the first scan of the child.

"We started thinking 'Jeez, he is for real?'" Wheaton said.
Apparently the morning sickness, tender breasts and swelling belly following unprotected sex were not conclusive enough to convince these geniuses that they were, indeed, about to reproduce.

But when the parents filed the name with New Zealand's Registry of Births, Deaths and Marriages, they were told names beginning with a number were against the rules.

Registrar-General Brian Clarke said the rules are designed to prevent names that are "likely to cause offense to a reasonable person."
Now the pisser is that the only thing standing between these ass-hats naming their kid 4real is a
frigging loophole
. Numerals are not allowed in New Zealand as part of a name. Sadly there's still a possibility that this kid is gonna be saddled with a name str8 outta Leet.
The government office has opened negotiations with the parents about the name under a policy that says all unusual names must be given case-by-case consideration.



"The name has not at this stage been rejected," Registrar-General Brian Clarke said in a statement Thursday. "We are currently in discussions with the parents ... to clarify the situation."

Clarke said the rules are designed to prevent names that are "likely to cause offense to a reasonable person." Satan and Adolf Hitler were proposed names that have been declined, he said.

If no compromise has been reached by July 9, the baby will be registered as "real," officials say.
There are, of course, people who think this is fine and dandy. Online petitions have already started advocating their right to be unmitigated jackasses. Of course, there are plenty of people out there who think this a good idea and they've made baby naming big business.

Some parents are turning to professional consultants, computer programs, polls and even numerologists to achieve the perfect moniker for their bundle of joy.
"Parents think that if they give their child a unique and special name, the child will become unique and special," said Bruce Lansky, author of "100,000 Baby Names."

Nevaeh, which heaven spelled backwards, has become one of the world's most popular names. But others don't always pass the societal test.

Two boys, one in Michigan and the other in Texas, bear

the name ESPN. They were named after the sports network.
Frankly--if you think some cutesy name is gonna insure your kid's gonna be special without doing any of the heavy lifting required to make your child interesting in its own right then you shouldn't be allowed to have a fern, much less a child.
UPDATE "You Can Leave Your Pants On."


Roy Pearson
, the judge and lawyer who sued a dry cleaner for 54 million dollars over a lost pair of pants has lost his lawsuit. Now, why doesn't the bar for the District of Columbia look into this.