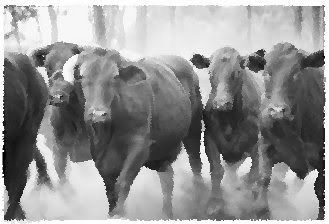 So the waste of space neighbors had another (multiple) cow break out this morning. As I was trying to drive to work. There they were: three surly calves traipsing along the road. I slowed to a crawl and thought I would be able to squeak by them. As if.
They began running ahead of me, veering back and forth. One brown bastard turned and was about to charge my car. The only thing I thought was no...wait til it's paid off...sweet
jesus
.
Finally one of the ridiculous slope headed people who works for the
wos
neighbors comes running and herds the calves back into their enclosure. You see, the calves can walk BETWEEN the strands of barbed wire. Very effective.
This has been the third escape since May. I only learned about the second one a day ago. That escapee wrecked another neighbor's yard and mock oranges--totally snapped them off and tromped things down. Was there an apology? An offer to replace or pay for the damaged plants? What do you think?
Sadly, all my efforts to
google
"fat man with a mullet in a camel light tee shirt and feed cap" or any of its permutations turned up nothing. I really wish I
could've
snapped some photos of this prize in action. I bet some of you singles out there would have begged for his contact info. He was poetry in motion. It actually made the whole
ludicrous
experience worth it. Of course it would've been better if he'd gotten kicked or fallen in a fresh cow flop, but ya can't have everything.