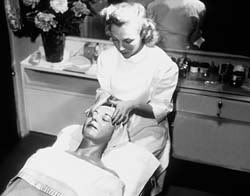 A compendium of things said to me or that I've overheard while getting ready each night.
Check back--I'll update as the show progresses.
Keith (to me): Be sure to rouge your nipples. Not too much though; you want them looking perky-- not puffy. Puffy nipples could mean there's an infection.
Jerry (to me): What's wrong with your chest? Do you shave it? Chest hair's not supposed to look like that.
Some Random Girl: I wish I had to stuff my bra.
??(Can't remember who to me): Your dove tattoos look much better tonight. Last night it looked like you had a map of Texas above each tit.
Update from 7-19:
Nurse: I've ruined my boobs. Where's Anthony? He's really good with my boobs.
(I've realized that I'm essentially 12. Boob jokes always amuse me.)