Brian sent me a link to this website,
Kinkystore.com.
Now, I don't know WHY he found this website, nor do I know HOW he got there--these are issues for a later time. What I do know is that under the banner ads for dungeon gear, ball spreaders, nipple clamps, electrified paddles and all the accoutrement your BD/SM enthusiast could desire they have--teddy bears. Leather bear teddy bears. There's some strange comingling of the sleazy and the cuddly goin' on here.
An almost Village People-esque assortment. Now your 4 year old dom-in-training can play with the bears as he sings "Macho Man." And not only are they soft and furry, he can learn to appreciate the fine craftmanship.
Painstakingly hand crafted attire in Genuine Leather and hardware with no attention to detail spared.

Real rivets, d-rings, snaps, chain, and buckles. Chaps really snap, restraints and garrison belt really buckle.

Cop Bear holds a baton and metal chest and hat badges read "Special Police". Master Bear's hat features chain detail over the top and across the front. Deluxe leather hats look just like the real thing, leather lined, completely removable and held in place with chin band.

All attire is genuine leather and completely removable.

Bears have fully movable jointed arms, legs, and neck so that they may assume any kinky position desired!
That's right--REAL RIVETS! Batons!
Or maybe your little girl can learn a new appreciation of Stevie Nicks as she plays with "Slave Girl" Bear and sings "Give to me your leather, Take from me my lace" with a new trenchant delivery.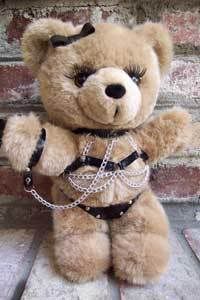 But I worry about "Daddy Bear;" he looks like he could be permanently damaged because of his harness. Something just doesn't look...right. It's like the gopher from
Caddyshack
got kidnapped and taken to the Russian River for reindoctrination.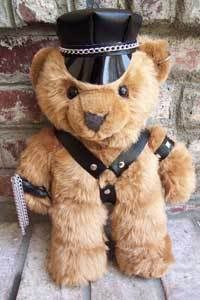 If they weren't so cost prohibitive I might be tempted to get a set and make my own all teddy-bear recreation of Madonna's "Justify My Love" video.
Nothing says dungeon to me like a leather quilt and some bondage bears in the corner.
I suppose though, they are more cuddly than the alternative.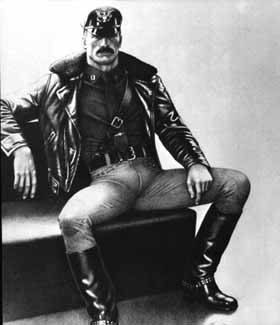 (and yea I'm totally gunning to mess with people who're googling electric paddle, ball spreaders and nipple clamps.)