What
is it
with conservative christians and armor? Bad enough that they cherry pick from rabbinical law; if nothing else proves they can't be trusted to interpret metaphor or allegory it's
The Armor of God Pajamas.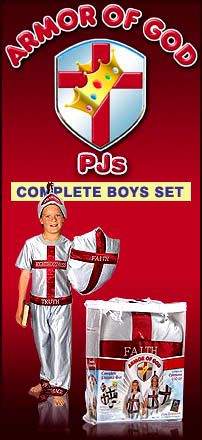 I know I can't wait to sleep in silver lame with a helmet. And at 50.00 a pop what kid (or budding clubber) wouldn't?
But wait--RJ, you're being unfair! Look at what they get for their 50.00
Pajama Top with breastplate of righteousness and hem of truth.

Pajama Pant with wings of peace to cover feet.

Helmet of Salvation.

Shield of Faith pillow.

Sword of the Spirit (New Testament).

Activity coloring book.
Perhaps I am being harsh. They are, after all, getting both pajama tops and bottoms. Why would I think that this was some crass attempt to market crap to a specialized audience.